New Town, New Home, New History
MCK International Congress Center Katowice
Why MCK International Congress Center?
All in 1 venue! 12 workshop rooms! Unlimited party space!
Gigantic main halls for the biggest dance floors – 2800 sq meters. No number limitations.

City center, close by hotels, safe and open space open to welcome up to 25 000 dancers! Convenient flights to Cracow or Katowice. Buffet and bars open 24hrs, hot pizza in the middle of the night, great breakfast also available.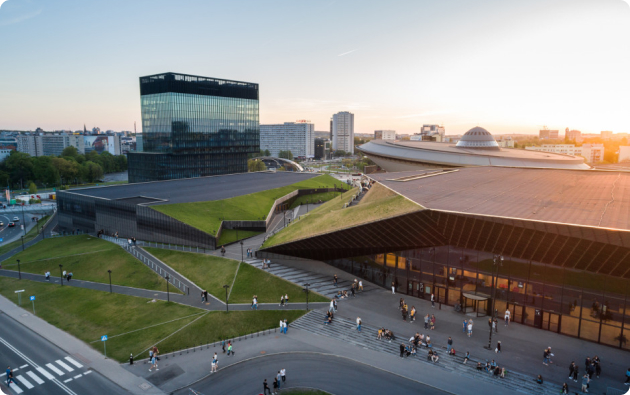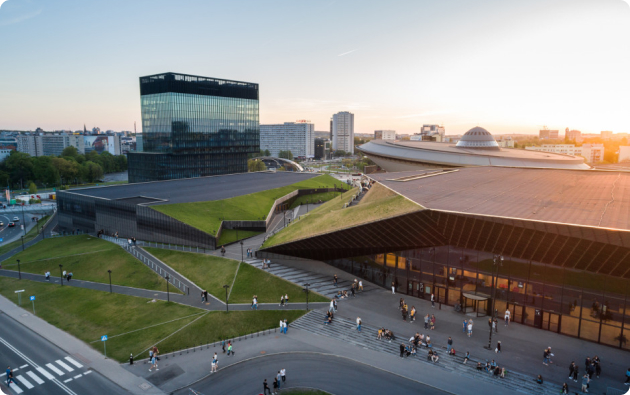 Comfortable 
accomodation
We have identified 11 hotels within a fast taxi reach in Katowice for you. The 2 closes ones you can buy through us.
Some of the other ones are our partners and have provided discounts for you, check out the hotel section.
Also see this material on Instagram
It is postioned in the city center. All taxis, ubers will take you here at a low price. You can walk from the main train station. From the airport you take a bus. You'll be able to shop for anything in the city, pick any restaurant you need and walk there.
All major airlines fly to Cracow (Kraków) or Katowice (LOT and Star Alliance), also Wizz Air and Ryan Air.
From Cracow you take a bus, in 60 mins you"re in Katowice.
From Warsaw you take a train 2.40min to the center of Katowice. Check out our transport section.
All major neighbouring capitals have a convenient train connection.
You can also drive on a motorway directly to Katowice. See the map we have prepared for you.